President 
Alaine Ripley PAVSA SANE Program 
Alaine Ripley, RN, SANE-A has been a SANE with the PAVSA (Program for Aid to Victims of Sexual Assault) SANE program in Duluth, MN since 2015. She has partnered with SafeHarbor to develop the PAVSA SANE trafficking protocol. Alaine teaches community and medical professional education on trafficking, domestic violence, and PAVSA services. She has been an RN for 10 years and has a passion for serving those effected by sexual violence. Alaine is excited to expand her role as a SANE by serving on the MN Chapter of the IAFN Board of Directors. Outside of work she looks forward to spending time with her family enjoying outdoor activities in Duluth, live music, volunteering, and taking hip hop and jazz dance classes.
President Elect 
Savanha Winkel RN, SANE A  Regions Hospital SANE Program, St Paul 
Savanha has been a nurse for 4 years and a SANE in the Twin Cities since 2019. Currently, Savanha works in a Neonatal Intensive Care Unit and for the Regions SANE Program, serving 5 hospitals in the east metro area. It was not until the fall of 2018 Savanha discovered the field of Forensic Nursing. She instantly became engaged in the necessary level of caring, compassion, education, and cooperation required in the field. Her first year was everything you could imagine for your first year as a SANE, eye-opening, challenging, and rewarding. It became excruciatingly clear to her just how important this work was, for her patients and for society as a whole. She quickly got involved with her program participating in trainings for new SANEs, advocates, and law enforcement personnel. Her passion for education had always been there, but her work as a SANE taught her truly just how powerful education can be, for her patients, her community, and the systems in which Forensic Nursing intersects. Having meaningful interdisciplinary educational opportunities available where true learning and change can happen is where her passion lies. Although her time in Forensic Nursing has just begun, she has committed herself to the field and looks forward to the opportunities to serve and learn from members of the Minnesota IAFN chapter.  
Immediate Past President  
Ellen Johnson BA RN SANE-A CPEN CEN   Regions Hospital SANE Program Supervisor
Ellen has been a SANE since 2002, and the Supervisor of the Regions SANE Program since 2005. She is committed to sharing her skills and knowledge with others, which fits in well with her involvement in the MN IAFN since its inception in 2010. Ellen has served as President of the MN IAFN in the recent past, and is interested in serving again to mentor newer SANEs in leadership roles within MN IAFN. Ellen is a committed leader who is fully engaged and present, serving the nurses and chapter members caring for victims of violence.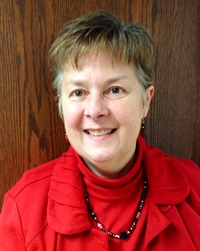 Treasurer
Charity Lustek  RN, SANE A   HART, Minneapolis 
Charity has been a SANE for a year and a half with the HART program at HCMC. In 2016, she left a 15 year career in pharmaceutical sales to become a Registered Nurse – something she had been wanting to do for over 20 years. She holds an ADN from Inver Hills Community College, a BSN from Moorhead State – and a MBA from Hamline University, as well as a Master's Degree in Women's Studies from the University of Alabama. She is a certified Public Health Nurse, Oncology Certified Nurse and Blood and Marrow Transplant Certified Nurse. She knew that she wanted to be a SANE as early as 2005, when her former neighbor Beck Borrud became involved with the SARS (now HART program) at HCMC. As soon as she was eligible, Charity took Linda and Ellen's SANE-A class in St. Cloud. Charity is on the Excellence Council for the HART program, as well as part of the Rapid Improvement Quality Initiative team. She also serves as a colposcope trainer and also represents the HART team on the Rice County Sexual Assault Multidisciplinary Action Response Team (SMART). 
Secretary 
Katie Laney RN, SANE - PAVSA, Duluth
In addition to being a RN for 10 years, Katie has been a valued member of the Duluth SANE team since 2016. In her time as a SANE, Katie has provided exceptional care to the diverse and vulnerable population in the Duluth region. She has conducted 49 adolescent/adult forensic examinations and is pursuing her SANE-A certification this year.
Throughout her time as a SANE, Katie has become a valued member of the team. She demonstrates excellence in attendance and responsiveness. Katie quickly rose to preceptor status. As a preceptor, Katie has assured that nurses new to the role of SANE uphold the responsibility of providing thorough, detailed care and documentation. 
Katie's care as a SANE has been an example of how to do this job right and how to do this job well. Her documentation has been used for statewide case reviews. It is also frequently used as an example within the Duluth SANE program. Katie's attention to detail in her charting is one of her strongest attributes as a SANE.
Katie has served as liaison to the board of the MN Chapter of the IAFN for the past year, fulfilling the role of secretary. She selflessly filled this position in order to assist the board to accomplish their mission.  Her experience in this role makes her a strong candidate to continue in the role of secretary for the MN Chapter of the IAFN and demonstrates her commitment to the field of forensic nursing.

Education Director
Kelly Nelson-Cichosz RN, BSN, SANE-A    Lead Forensic Nurse for the Allina Health Forensic Nursing Program
Kelly has been a registered nurse since 1999. Since graduation, she has been practicing in the emergency department. In 2015, Kelly took a SANE on-call position working for the Unity program while also leading the St. Francis Forensic Program as well. Earlier this year, Kelly took a full-time role assuming the role as the Lead Forensic Nurse for the Allina Health Forensic Nursing program. She is SANE-A certified and is currently working towards obtaining her SANE-P certification. Kelly has a strong passion caring for victims of both Sexual Assault and Domestic Violence patients. After attending the IAFN international conference, she set a personal goal to become more involved in the IAFN MN Chapter and expand her passion to other nurses. Kelly is committed to this group and serving in whatever capacity her talents can best be utilized. On a personal note, she is married with seven children. Kelly lives on a small hobby farm where they raise chickens and tend to six bee colonies.
Director at Large 
Breanna Heisterkamp, BSN, RN, PHN, SANE-A Forensic Program Coordinator  Hennepin Assault Response Team
Breanna has been a registered nurse since 2015 and graduated with her BSN from Bethel University. She first worked with Hennepin Healthcare as a nurse on their Inpatient Medicine and Oncology unit. When she learned about the field of forensic nursing, she applied for a casual position in 2018 with the Hennepin Assault Response Team in Minneapolis. After not too long at all, she knew this was where her passion was - working with victim/survivors! She moved to a full-time position with the HART program and then took on the role of Forensic Program Coordinator for HART the following year. She obtained her SANE-A certification at the end of 2020 and looks forward to pursuing her SANE-P certification next! She is dedicated to seeing forensic nurses become better equipped and more confident in their practice through education and engagement in the forensic nursing community.