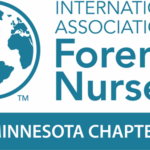 2021 Elections for the MN Chapter of the IAFN
MN IAFN Chapter member are eligible to vote for the open Board positions in 2021. 
You will recieve an email  from the MN IAFN Chapter with a link to a Survey Monkey ballot. The elections are open from November 17-December 1, 2020.  
If you are a member and did not recieve the email - please email mnforensicnurses@gmail.com or iafnminnesota@gmail.com and we will send you the link.
The 2021 Board positions are: 
President-Elect - (3-year term - president-elect, president, and immediate past president)
Secretary - (2021 - it is a 1 year term and in 2022 it becomes a 2 year term)
Treasurer - (2 year term)

Director At Large - (2 year term)