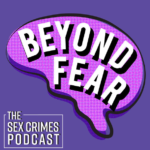 New Podcast and Blog that may be of interest.
Beyond Fear  -  The Sex Crimes Podcast by Dr. Alissa R. Ackerman and Dr. Alexa Sardina
Episode one introduces you to Alexa and Alissa. They are "survivor scholars",  criminal justice professors and sex crimes experts based in California who also publicly navigate their professional spaces publicly owning their experiences as rape survivors.
They talk about why we believe sexual abuse is increasing during the current COVID-19 pandemic.
They also provide some data on the increase in calls to sexual abuse hotlines, like the  Rape Abuse and Incest National Network.